MRT is Dedicated to Providing Quality Products and Services at Competitive Prices!
MRT, (Maintenance and Repair Technologies) was formed in 2006. In December of 2008, with a vision of becoming more then just a commodity machine shop, MRT acquired the EL Epperson Co, located in Middletown, OH. This acqusition allowed MRT to expand product lines to reach other markets that would enable the business to sustain and grow. The EL Epperson Co. was well entrenched in the paper and steel industry with over 40 years of service experience. MRT has built a dependable reputation for supplying quality products to it's customers throughout the years.
In Oct 2017, MRT was acquired by Canterbury Capital, LLC. The business is formed under MRT Partners, LLC and the business name is MRT.
Having the scheduling flexibility ensures our customers can get major repairs or rebuilds completed in a timely fashion, during times of machine dailures or outages. MRT is very dependable and service oriented and has the capabilities within the facility to handle a vast array of jobs that meet today's customers expectations.
Our areas of expertise includes:
Steel
Paper Mill
Energy-Power
Dynamic Balancing
Gear Box Repairs
General Machining
Failure Analysis
Equipment Rebuild
Fabricator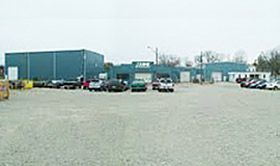 Capabilities Statement
Company Overview
In Business Since 2006
MRT supports all aspects of maintenance operations through Equipment Repair, such as Gear Box Rebuilds, Machinery Repair, Fabrication Services, CNC Machining or Roll Turning.
MRT is dedicated in providing products and services at competitive prices with the highest quality standards. This assures our customers that the products and equipment that are returned to them will meet or exceed all of our strict standards in place and will be in accordance with all blueprint specifications, drawings and customer requirements.
Whatever it takes, whatever is required, MRT will get you up and running.
Our process and the way we do business, is a proven system that has been tested and retested. And it works.
From Large boring mill projects, VTL or CNC work, MRT has been providing quality service for years and has the credentials to prove it.
We are ISO 9001: 2015 Certified with a Quality Control program that is second to none.
We are OSHA, and MSHA Trained and Certified and have our SAMS /CCR number and are authorized for Government Contract Work.
Company Designations
DUNS # 807949065
ISO 9001:2015
Cage Code 73SG9
Corporate Status Small Business
SAMS Registration/CCR Status Complete/Active
OSHA 30H / MSHA Certified 30CFR 46/48
Located in Middletown Ohio, MRT Operates a 5+ Acre facility, with 5 bays, 3 buildings and 2 office buildings with over 35,000 ft of workspace.
Capable of repairing large equipment with 16 Cranes and or Hoist with a max lifting capacity of 80 Tons.
A fleet of 3 trucks ranging from our 48' Semi-Trailer low-boy with Heavy Hauling capability and two 24' flatbed trucks with diamond steel plate and (1) with a wooden bed to protect our customers valuable cargo.
NAICS Codes
811310 = Foundry machinery and equipment
811310 = Paper making machinery repair

811310 = Mining machinery and equipment
811310 = Heavy machinery and equipment
811310 = Industrial equipment and machinery
811310 = Commercial and industrial machinery repair
811310 = Welding and Fabrication services
SIC Codes
3443 = Fabricated Plate Work
3599 = Industrial and Commercial Machinery
7699 = Industrial and Farm Machinery Equipment and Repair